Orthodontic Services

in Haverhill, MA
Many patients choose to pursue orthodontic treatment because they want to improve the appearance of their smile, but proper orthodontic care can also have other benefits, like making eating and speaking easier and reducing tooth decay. Thumb and finger sucking should be discouraged around 2-3 years of age as well, as prolonged thumb-sucking can lead to more advanced orthodontic problems in the future.
Dr. Creech is an experienced orthodontist who is highly skilled at creating custom orthodontic plans that result in healthy, beautiful smiles. Our office provides orthodontic care for kids and adults alike, so if you, your child, or anyone else in your household wants to achieve a straighter smile, please contact our office and schedule a free consultation today!
Schedule Consultation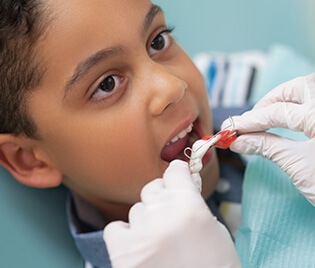 The Orthodontic

Process
Every patient must attend an orthodontic consultation, where our team will take impressions of the patients' teeth, offer more information, and provide an estimate for how long treatment should take. The custom treatment plan is then designed, and an appointment is scheduled for the braces to be applied to the teeth. If the patient chooses clear aligner therapy, the follow-up appointment will involve trying on the first aligner and taking the rest of the aligners home.
Our Orthodontic

Treatment Options
Metal Braces
Metal braces are what most people think of when they hear the word "braces." However, the clunky and awkward metal braces of the past have been replaced by today's modern braces, which are slimmer, more comfortable, and less noticeable. Metal braces use low force to gently shift each tooth, and occasional orthodontic appointments will be needed to adjust the wires and keep the patients' treatment plan on track.
Ceramic Braces
Ceramic braces are also placed on the front of the teeth like metal braces, but they use clear brackets that are not as noticeable. Ceramic braces can be a great choice for patients who want the benefits of metal braces but also want a more discreet option. It's important for any child, teen, or adult who has metal or ceramic braces to clean their teeth and braces as well as they can to prevent tooth decay and to keep the clear brackets from becoming discolored.
Invisalign® Clear Aligner Therapy
Once patients receive their first set of clear aligners, they will want to wear them for 20 to 22 hours per day, or any time they are not eating, drinking anything besides water, or brushing their teeth. Each aligner only needs to be worn for two weeks, and once the teeth have shifted the way that they're supposed to, patients will begin wearing the next aligner in the series. Invisalign comes with no food or activity restrictions, and the aligners are virtually invisible on the teeth.
Contact Us